Celebrate Ag is the MSU College of Agriculture's annual event to honor Montana's agricultural legacy and current and future agricultural leaders, producers, and students.
Celebrate Ag 2023 Schedule
Friday, November 3
8:30 a.m.: Agricultural Economics Outlook Conference, https://ampc.montana.edu/economicsconference/

Saturday, November 4
8:30 a.m.: Celebrate Ag Breakfast, Ballrooms of the Strand Union Building
10:30 a.m.: Join us at Dyche Field for our first-ever "Ag Alley" tailgate!
1 p.m.: Bobcat Football vs. Northern Arizona, Bobcat Stadium
Click here to see our Outstanding Agricultural Leaders since 1995.

Nominations for 2023 have closed. Stay tuned for the nomination form to open in spring 2024!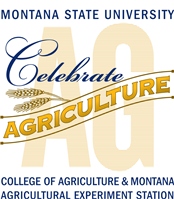 The contest is a fast-paced challenge to students to concisely explain how their research effects the average person. Participants will use a single presentation slide as a visual aid to engage with a non-specialst audience on their topic. Each student gets 60 seconds at the microphone to present at the annual Celebrate Ag Weekend pre-game breakfast.
For more information, contact Laura Wilson at (406) 994-3681.