Outreach and Engagement
See what our faculty, staff and students are doing outside the classroom
MSU arctic researcher earns presidential fellowship from Chinese Academy of Sciences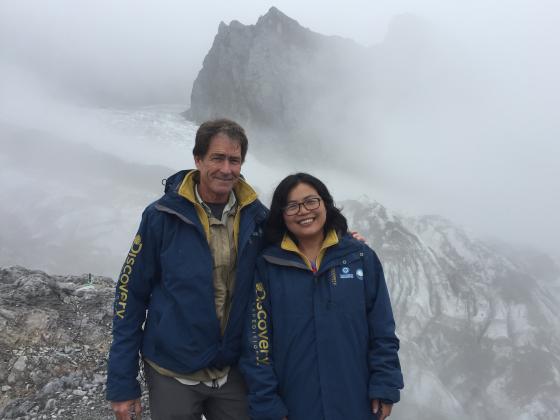 Photo courtesy of John Priscu

Reagan Colyer, MSU News Service
JANUARY 13, 2020
BOZEMAN — Montana State University professor John Priscu was recently awarded a prestigious, yearlong fellowship from the Chinese Academy of Sciences, an honor that will facilitate further research into polar ecology in the Himalaya and other extreme terrains.
Priscu, a Montana University System Regents Professor in the Department of Land Resources and Environmental Sciences in the MSU College of Agriculture, first visited China in the 1990s to lecture about his work in Antarctica. He is one of the nation's leading researchers in Arctic biogeochemistry and his 36-year career includes publications in magazines such as Time and Scientific American and academic journals such as Science and Nature, among dozens of others.
"You think of Antarctica and you typically think of this giant, lifeless iceberg," said Priscu. "It's pretty hard living on the surface, but underneath it's not so bad. Beneath the Antarctic ice sheet lies our planet's largest wetland. It might not have the red-winged blackbirds and the cattails, but it's permanent water overlying water-saturated sediments, and it's got bacteria that drive reactions such as methane production, all of which are defining elements of a wetland."
Read more about John Priscu's polar research here.
---
MSU's Schutter Diagnostic Lab releases first in educational video series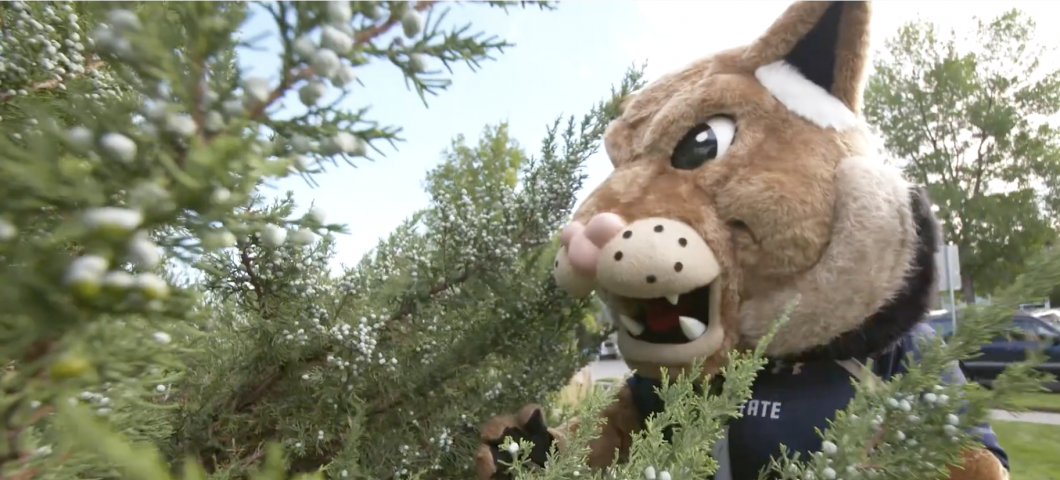 Photo courtesy of Schutter Diagnostic Lab
From MSU News Service
DECEMBER 17, 2019
BOZEMAN – Montana State University Extension's Schutter Diagnostic Lab, the core of MSU's Integrated Pest Management Program, released the first three in a series of educational videos earlier this month outlining the services the lab provides.
The lab, which works closely with MSU's College of Agriculture, helps growers identify and manage pest problems using multiple methods rather than relying solely on pesticides. This integrated pest management approach seeks to incorporate knowledge of pest life cycles and regional environments to prevent diseases and combat harmful insects. Management can include techniques such as preventive traps for insect pests and biocontrols like insect-eating wasps as well as simple installations like door sweeps on greenhouses. Specialists in the Schutter Lab analyze an average of 3,000 samples per year to identify plants, insect pests, crop diseases and environmental stressors and recommend management strategies. The lab serves all of Montana, including its seven reservations, as well as several surrounding states.
"With each identification, we consider that an opportunity to educate the client,"said Schutter Lab scientist Mary Burrows, professor in the Department of Plant Sciences and Plant Pathology and MSU Extension specialist in plant pathology. "The first step in integrated pest management is identifying the pest, but we do pesticide safety education, community outreach and urban agriculture too. We partner with all kinds of people and just try to help wherever we can."
Read more about the Schutter Lab's outreach efforts here.
---
New survey suggests improvements in Montanans' understanding of noxious weeds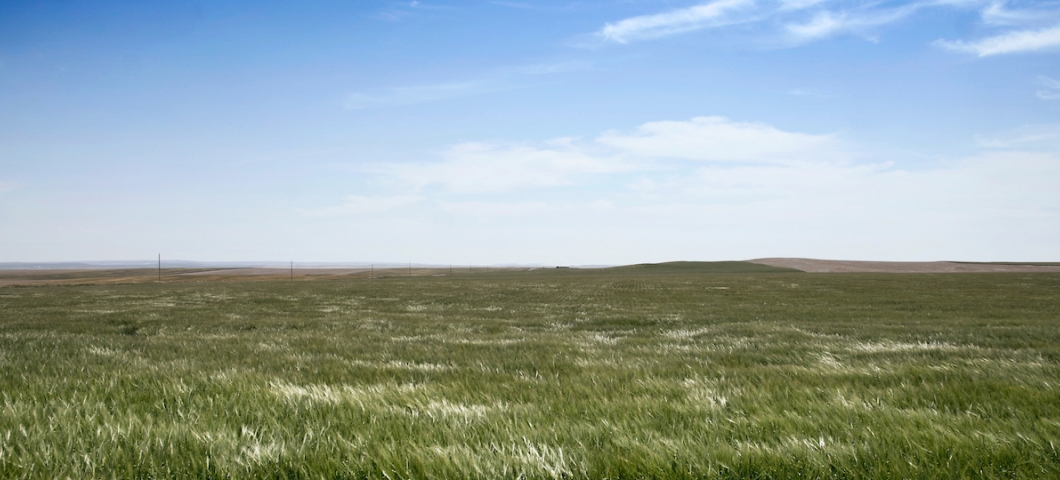 Reagan Colyer, MSU News Service
OCTOBER 16, 2019
---
Crickets, mealworms, pupae: Hundreds flock to MSU's Strand Union Building to try edible insects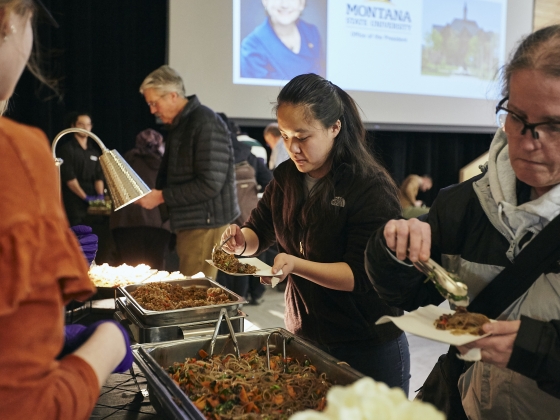 Adrian Sanchez-Gonzalez photo
By Anne Cantrell, MSU News Service
FEBRUARY 14, 2019

BOZEMAN — Grasshopper Korean veggie cellophane noodles. Black ant roasted beet-cucumber arugula salad. Chocolate mousse with bug bar. Acheta (cricket) Korean fried rice. These and more dishes featuring edible insects were served to hundreds of students, faculty, staff and community members who attended the 31st annual Bug Buffet held Thursday in Montana State University's Strand Union Building.
"I was intrigued to see what (the insects) taste like," said Natalee Wheeler, a third-year student at MSU in community health and Hispanic studies. "Sometimes the crunchiness freaks me out, but it tastes good.
"There's a crunch for sure," she added. "Like little croutons."
Wheeler, who is originally from Polson, has attended the event for the last three years. She said she's interested in insects as a sustainable source of protein.
"I really enjoy that they have (the Bug Buffet) at MSU to educate that bugs are a good protein source," she said. "It's not normal in the U.S. to eat them a lot, but I think it should be."
Read more about the 2019 Bug Buffet here.
---
MSU agricultural faculty members author trending article on 2014 farm bill programs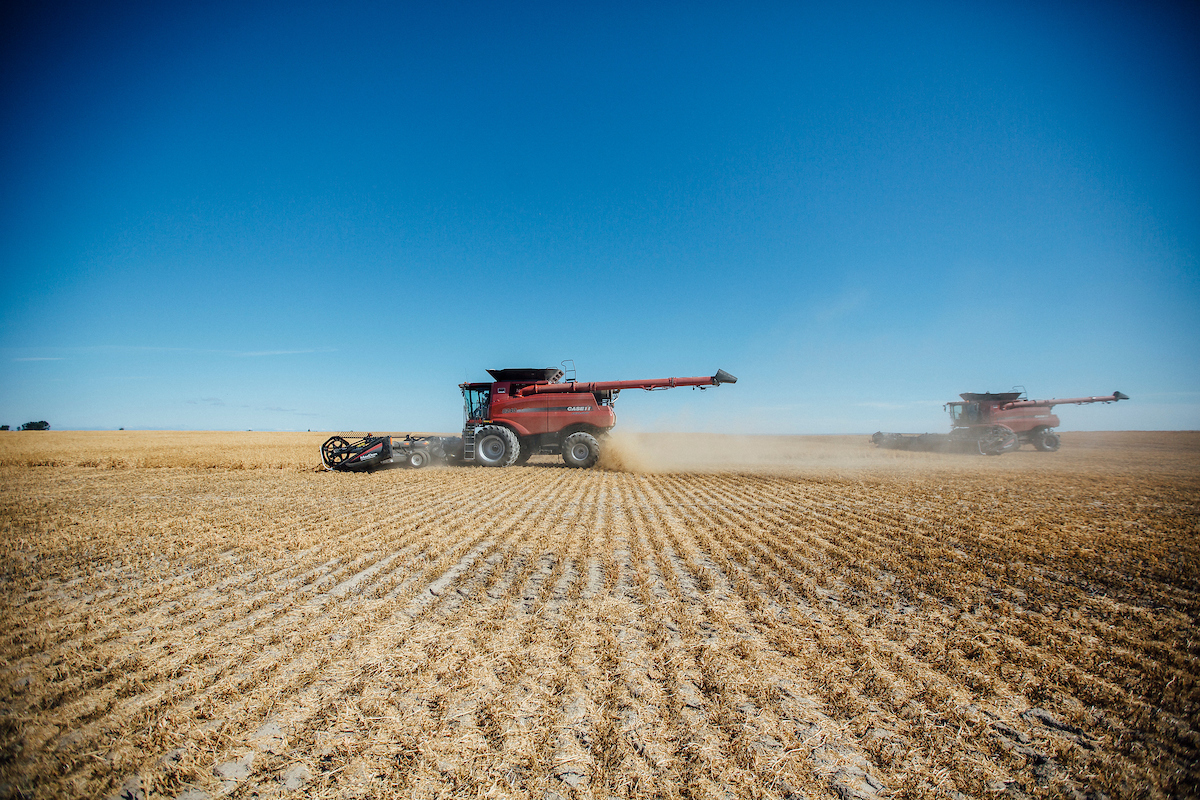 Adrian Sanchez-Gonzalez photo
Jenny Lavey, MSU News Service
DECEMBER 28, 2018
BOZEMAN – Three Montana State University agricultural economists are the authors of one of the year's top articles in the Journal of Applied Economic Perspectives and Policy.