A selection of highlights from this year's research endeavors across the College of Agriculture
MSU doctoral candidate discovers new firefly lineage hidden in scientific collections
By Reagan Colyer, MSU News Service
NOVEMBER 13, 2020
BOZEMAN — A Montana State University doctoral candidate published a paper today describing and naming a new subfamily and three new species of beetle endemic to Mexico.
In biological classification, the new beetles belong to the same group as fireflies, and their identification as beetles of this group was facilitated by comparative anatomy and genetic studies performed at MSU.
Vinicius Ferreira studies the evolution of beetles, mainly of the family Lycidae, commonly known as net-winged beetles. Originally from Brazil, Ferreira now works in MSU's Marsh Laboratory with mentor Michael Ivie, an associate professor of entomology in the Department of Plant Sciences and Plant Pathology in the College of Agriculture. To aid in his doctoral research, Ferreira received beetle specimens from scientific collections all over the world, including collections from the Smithsonian Institution and the Canadian National Collection.
One day while examining specimens, Ferreira noticed one that appeared different from the others. Unable to satisfactorily place the specimen in any known family of beetles, he contacted other members of the scientific community to see if they could help.
"We rely on material that has been collected by colleagues all over the world, and it's a pretty tight community," said Ferreira. "I started reaching out to people asking if they'd ever seen this beetle before, and nobody could identify it."
Read more about Vinicius Ferreira's firefly research here.
---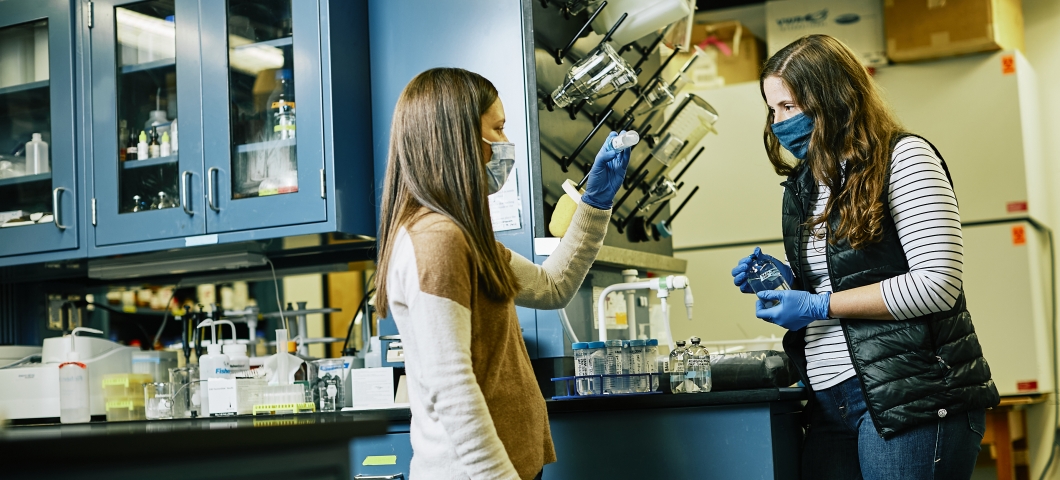 With DOE funding, MSU researchers explore microorganisms and early Earth processes
By Reagan Colyer, MSU News Service
NOVEMBER 10, 2020
BOZEMAN — A Montana State University doctoral student is seeking to glimpse the biological processes of the early Earth by studying how microorganisms live in the harsh environment of the Samail Ophiolite, a unique geologic formation on the Arabian Peninsula.
Libby Fones visited Oman this past spring, prior to the pandemic travel restrictions, to gather water samples from an ophiolite, a chunk of the Earth's crust and underlying mantle that was once under the ocean but was forced to the surface by millions of years of tectonic activity. Oman and the United Arab Emirates are home to the Samail Ophiolite, one of the largest such formations in the world, measuring more than 350 miles long and nearly 100 miles wide.
Having brought the samples safely home, Fones, a Ph.D. candidate in the Department of Microbiology and Immunology in MSU's College of Agriculture, is now ready to continue exploring the microorganisms that live in and on the Samail Ophiolite's rocks. Fones and her adviser Eric Boyd recently published an article in Nature's ISME Journal describing samples analyzed in previous years, and now, with a grant from the U.S. Department of Energy's Joint Genome Institute awarded last month, Fones, Boyd and postdoctoral researcher Rachel Spietz of the Boyd Lab will seek to uncover how the organisms live in this chemically unique environment and gain a glimpse into the biological processes of early Earth.
Read more about Rachel and Libby's biogeochemical research here.
---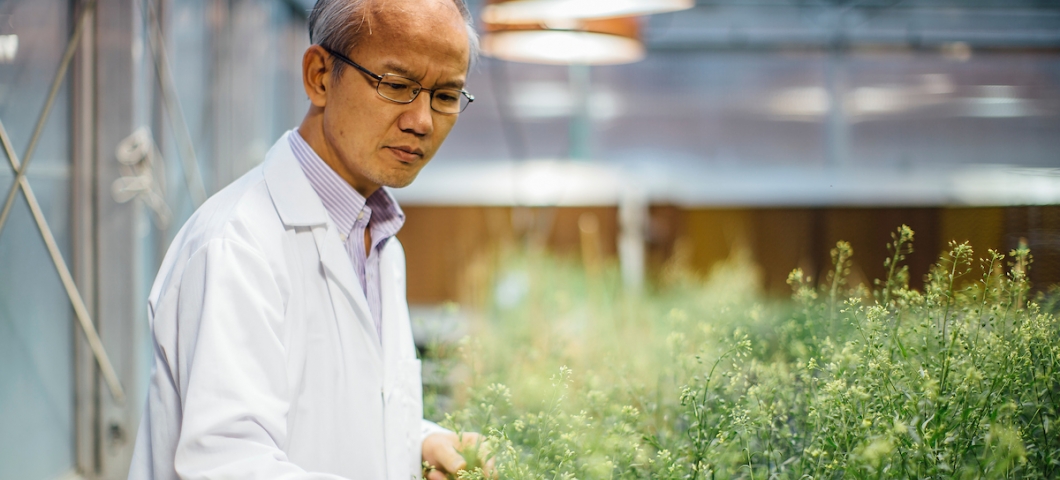 By Reagan Colyer, MSU News Service
SEPTEMBER 29, 2020
BOZEMAN — A research team led by faculty in Montana State University's College of Agriculture received $5.1 million from the U.S. Department of Energy designed to explore camelina, an oilseed with the potential to be an alternative biofuel and multi-use crop.
The MSU team, led by Chaofu Lu, a professor in the Department of Plant Sciences and Plant Pathology, will work with collaborators nationwide in administering total funding of $11 million to take a systems-level approach to assessing camelina focusing on yield and nitrogen use efficiency.
The team also includes MSU faculty Andreas Fischer, Jennifer Lachowiec and Qing Yan of the Department of Plant Sciences and Plant Pathology; Chengci Chen of MSU's Eastern Agricultural Research Center; and Jed Eberly at the Central Agricultural Research Center. Collaborators come from Washington State University, the University of California-Davis, Brookhaven National Laboratory in New York and Lawrence Berkeley National Laboratory in California.
Camelina is an oilseed crop similar to canola, though not commonly used for food oil. As with many major production crops, natural genetic differences among camelina plants could be used to breed novel strains of the crop, a process used at MSU to develop new varieties of cereals such as spring and winter wheat, durum and barley. Before that breeding activity can begin, more must be known about camelina itself, said Lu, who has studied the plant for the last 15 years.
Read more about MSU's role in a major exploration of camelina here.
---
MSU photo by Kelly Gorham.
MSU researcher receives fellowship to study pesticide impacts on wild bees
By Reagan Colyer, MSU News Service
JUNE 12, 2020
BOZEMAN — A Montana State University postdoctoral researcher received a fellowship from the U.S. Department of Agriculture this month to study the impacts of agricultural insecticides and pesticides on wild bees.
Anthony Slominski, who received his doctorate from MSU's Department of Ecology in 2019, is now a researcher and instructor in the Department of Land Resources and Environmental Sciences in the College of Agriculture. While there is extensive research focused on the effects of insecticides on honey bees, he says, most other bee species — many of which live in and around agricultural areas and serve important roles as pollinators — are much less studied.
"While most people are familiar with honey bees and bumble bees, solitary bees represent the vast majority of the rest of the diversity," Slominski said. "There are about 4,000 species of bees in North America, and almost all of them are solitary bees."
Read more about Anthony's work to help save wild bees here.
---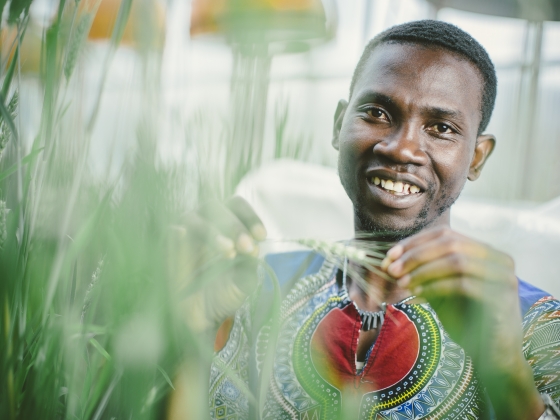 MSU student receives prestigious crop science award
By Reagan Colyer, MSU News Service
MAY 7, 2020
BOZEMAN — A Montana State University graduate student was one of just 20 individuals recognized nationwide for his work in the field of crop science.
Bernard Nyamesorto, a doctoral candidate in the College of Agriculture's Department of Plant Sciences and Plant Pathology, received the Gerald O. Mott Meritorious Graduate Student Award in Crop Science in April. The award, offered by the Crop Sciences Society of America, recognizes top graduate students who demonstrate exemplary academic achievements, research contributions, leadership and service.
Born in Ghana, Nyamesorto studied agriculture at the University of Ghana before moving to Bozeman in 2016 to study for a graduate degree. After beginning a master's program, he shifted his focus to directly pursuing a doctorate with the guidance of Li Huang, whose work focuses on understanding the molecular mechanisms of plant-pathogen interactions.
Read more about Bernard's crop science research here.
---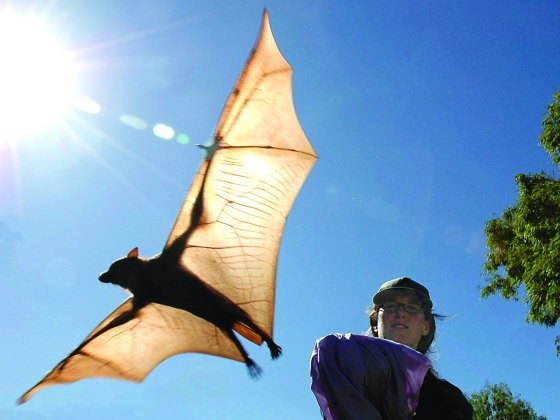 MSU researcher examines animal origins of COVID-19
By Reagan Colyer, MSU News Service
APRIL 29, 2020
BOZEMAN — For years, Montana State University researcher Raina Plowright's work has studied bats and the viruses they carry and spread. Now, with the emergence of the novel coronavirus pandemic, Plowright's research is timelier than ever.
Plowright said the virus that causes COVID-19, called SARS-CoV-2, originated in bats and is the third coronavirus to move from bats to humans in two decades. She and collaborators in Australia, Bangladesh, Ghana and Madagascar are researching how to prevent the spread of other viruses from animals to humans — a process known as spillover. That work begins by understanding how viruses exist in bats and how widespread they are among bats in various locations.
"Thankfully, we've collected a huge dataset over space and time in bat populations in multiple countries," said Plowright, an assistant professor in the Department of Microbiology and Immunology in MSU's College of Agriculture and principal investigator in the Bozeman Disease Ecology Lab. "Now, we can screen our samples for coronaviruses and other viruses that may interact with coronaviruses."
Read more about Raina Plowright's explorations in to COVID-19 here.
---
MSU researcher aids discovery of new cellular mechanism related to aging and chronic illnesses
By Reagan Colyer, MSU News Service
JANUARY 30, 2020
BOZEMAN – A Montana State University biotechnology researcher was part of an international team that recently discovered an internal mechanism which may protect human cells from oxidative damage. The discovery could lead to strides in understanding many problems associated with aging and some chronic illnesses.
Ed Schmidt, a professor in the Department of Microbiology and Immunology in MSU's colleges of Agriculture and Letters and Science, worked with research teams from Hungary, Sweden and Japan on the project, published earlier this month in the journal Science Advances. The mechanism, Schmidt said, is a previously unknown tool that cells can use to protect their proteins from being irreversibly damaged by cellular processes called redox reactions, which are common and necessary but which, in excess, can cause extensive damage.
"Redox reactions are any reaction where you're moving electrons from one molecule to another," said Schmidt. "Almost everything that goes on in our cells, chemically and energetically, involves the transfer of electrons. But it's critical that these be kept in balance. Our cells invest an enormous amount of effort and machinery into maintaining the right redox balance."