Integrating Teaching, Discovery and Outreach
MSU receives nearly $300,000 from EPA for study to help divert food waste from landfills
By Anne Cantrell, MSU News Service
NOVEMBER 2, 2020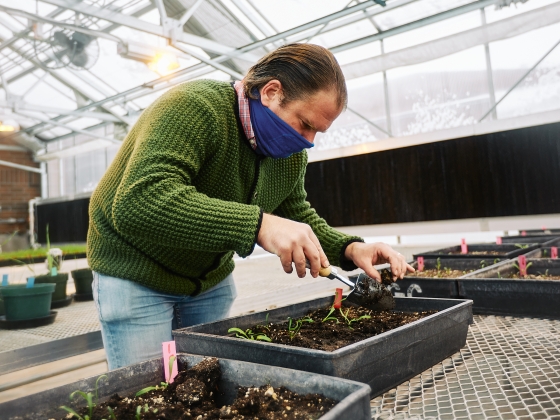 MSU Photo by Adrian Sanchez-Gonzalez
BOZEMAN — Montana State University has received nearly $300,000 from the U.S. Environmental Protection Agency for a study that aims to help reduce food waste and divert it from landfills.
With the funds, MSU researchers will partner with the city of Bozeman to study household food waste and explore the potential to use anaerobic digestion for processing household food waste in the city, applying a decentralized approach to organic waste management. Anaerobic digestion is a process through which microorganisms break down organic materials, such as food scraps, without oxygen. The process produces biogas, which can be captured and used for energy production, and digestate, a nutrient-rich fertilizer.
Roland Ebel, the grant's project director and a postdoctoral research associate in MSU's sustainable food and bioenergy systems program, said the process involves putting accumulated food scraps in a prepared, airtight container. Specific bacteria, called inoculants, then transform the scraps into a nutrient-dense biofertilizer over a period of about four to six weeks.
"We are excited about this community-centered project," Ebel said. "Anaerobic digestion of household food scraps is an efficient and sustainable approach for recycling organic waste for cities where no municipal organic waste management is available. We see the potential for expanding this model to other cities and states. However, first we have to make this work in our pilot study."
Read more about MSU's partnership with the City of Bozeman to reduce food waste here.
---
MSU professor explores the history of wheat in new book
By Reagan Colyer, MSU News Service
OCTOBER 14, 2020
BOZEMAN — When Cathy Zabinski decided to write her first book, she steered away from topics she has studied for nearly three decades: soil ecology, remediation of damaged ecosystems and crop rotations. Instead, she picked a new topic, one she could learn about along with her readers. For her main character, she chose the humble wheat plant.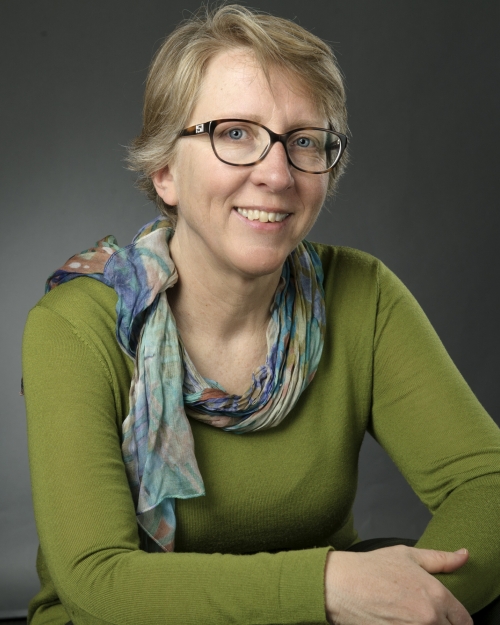 Zabinski's book, "Amber Waves: The Extraordinary Biography of Wheat, from Wild Grass to World Megacrop," was published last month. For Zabinski, a professor in the Department of Land Resources and Environmental Sciences in MSU's College of Agriculture, the project meant getting out of her comfort zone in order to connect with her audience.
"I was concerned since I study soil ecology at a really technical level, it would be difficult to write about in a way that could be of interest to non-scientists," Zabinski said. "I thought learning about a new topic could be a really good way to keep in mind this process of discovery and communicating to an audience who is learning about that topic just as I am."
---
MSU becomes member of Yellowstone Volcano Observatory
By Reagan Colyer, MSU News Service
JULY 21, 2020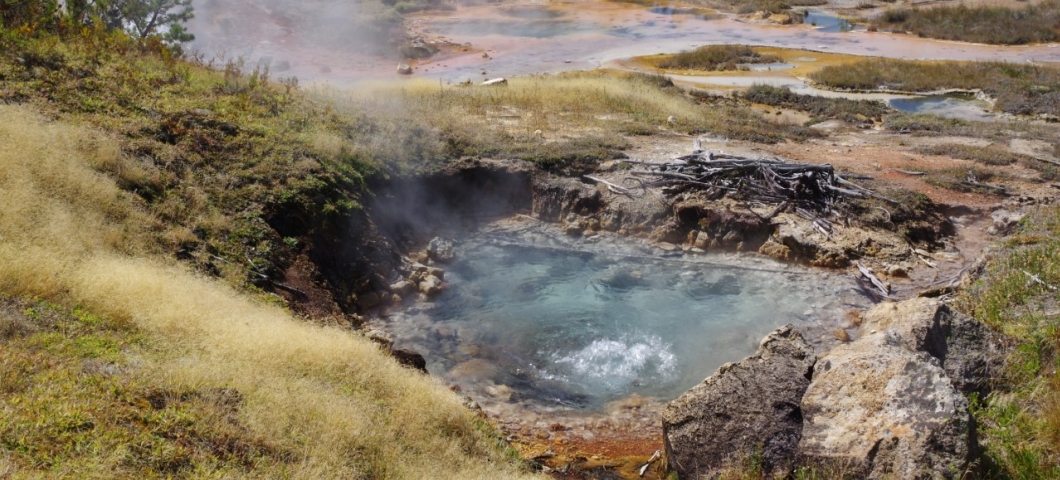 By Reagan Colyer, MSU News Service
JUNE 4, 2020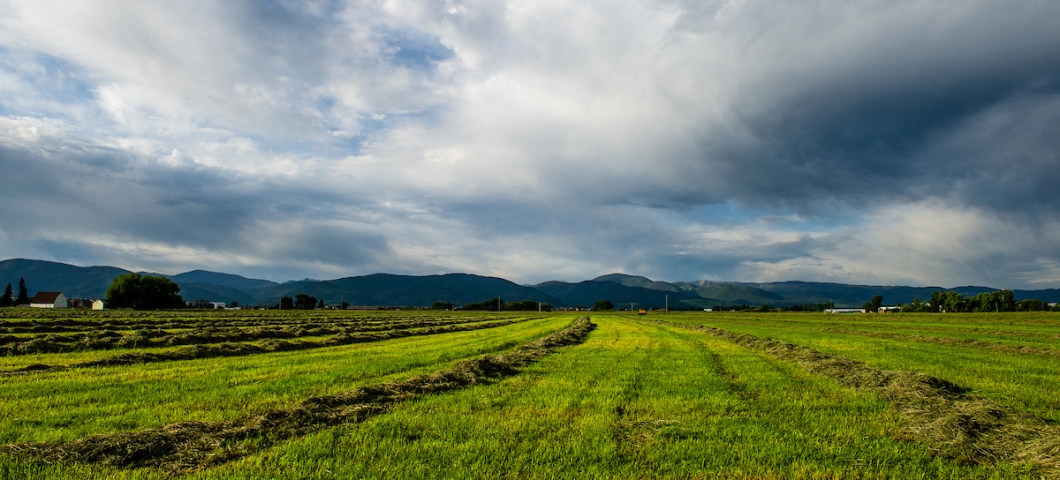 BOZEMAN — An interdisciplinary team of researchers from the Montana State University College of Agriculture received a grant to develop an integrated management framework for cheatgrass, an invasive species in Montana and a growing concern for agriculturalists in the Northern Rockies.
The team, made up of professors Lisa Rew, Cathy Zabinski and Jane Mangold of the Department of Land Resources and Environmental Sciences and Bok Sowell of the Department of Animal and Range Sciences, was awarded the three-year, $350,000 grant by the Western Sustainable Agriculture, Research and Education program, which is overseen by the U.S. Department of Agriculture's National Institute of Food and Agriculture. They will collaborate with Kyle Cutting of the U.S. Fish and Wildlife Service, Jim Berkey of The Nature Conservancy nonprofit organization and local farmers and ranchers to study the impact of the invasive grass and how to best manage it in Montana.
"All the current information says that if you're going to stand a chance of getting rid of cheatgrass, you have to target it when it's just beginning to take hold," said Rew. "That's where we are in a lot of areas in Montana right now. But if we don't get it soon, it will be very hard if not impossible to get any land back to the way we want it to be."
Read more about this interdisciplinary project here.
---
MSU researchers show wastewater can help monitor, manage coronavirus
Marshall Swearingen, MSU News Service
MAY 6, 2020
BOZEMAN — The flush of a toilet is usually paid little mind once its contents disappear into the maze of pipes that converge at a municipal facility to be processed. But that wastewater may prove to be a valuable resource in combatting the COVID-19 pandemic, according to researchers at Montana State University.
A team lead by MSU scientist Blake Wiedenheft was able to detect the novel coronavirus in samples taken at Bozeman's Water Reclamation Facility, which handles millions of gallons of wastewater produced each day by the city's roughly 50,000 residents.
Seven sewage samples, taken during a 17-day period in March and April, revealed levels of the virus that tracked with a rise in the number of COVID-19 cases reported in the Bozeman area and then declined after state-mandated social distancing. That suggests that the wastewater measurements are a reliable indicator of the local prevalence of the disease, Wiedenheft said.
"This may be one of the most important indicators to follow," said Wiedenheft, associate professor in the Department of Microbiology and Immunology in MSU's College of Agriculture. "Our hope is that this approach will become more common and that communities can use wastewater monitoring as an early warning sign of coronavirus infections."
Read more about Dr. Wiedenheft's wastewater research here.
---
MSU study: Climate change generating anxiety and distress for Montana farmers, ranchers
By Anne Cantrell, MSU News Service
APRIL 23, 2020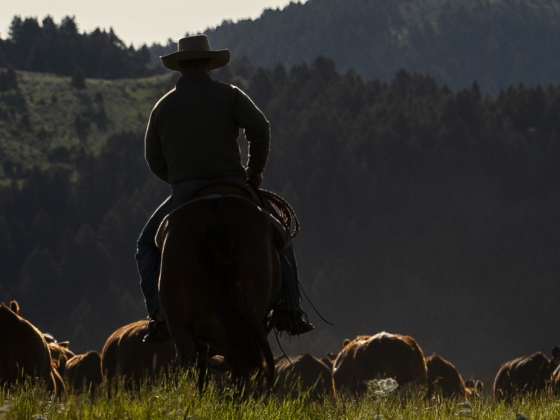 MSU Photo by Kelly Gorham.
BOZEMAN — Researchers have known for years that the current and projected impacts of climate change present challenges for agricultural productivity, with potentially serious consequences for farm and ranch livelihoods. But what hasn't been clear is what this means for farmers' and ranchers' mental health.
Now, a new study of 125 Montana farmers and ranchers shows that more than 70% of those farmers and ranchers agree that climate change is having an impact on their agricultural business. Moreover, nearly three quarters of the respondents say they are experiencing moderate to high levels of anxiety when thinking about climate change and its effects on agricultural business. The study was conducted by researchers in Montana State University's Department of Health and Human Development and Department of Political Science. It was published online Feb. 20 in the Journal of Rural Mental Health.
"This study demonstrates that climate change is generating anxiety and distress for farmers and ranchers," wrote Meredith Howard, the study's lead author who graduated from MSU in 2018 with a master's degree in community health. "To maximize public health preparedness efforts, interventions are warranted to provide climate adaptation education and therapeutic outreach specific to agricultural workers experiencing economic struggle in the context of climate change."
Read more about MSU's study into the impacts of climate change on farmer and rancher anxiety here.
---
MSU research equipment and expertise repurposed to help diagnose, research coronavirus
Marshall Swearingen, MSU News Service
APRIL 17, 2020
BOZEMAN — In the effort to slow the spread of the novel coronavirus and treat infected patients, special equipment that performs cutting-edge research at Montana State University has been repurposed to help Gallatin County health care providers.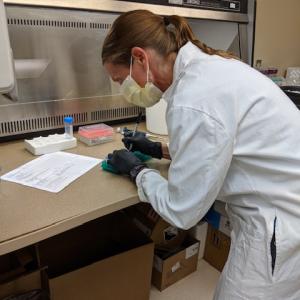 Before the outbreak of the novel coronavirus, formally named SARS-CoV-2, a machine in MSU researcher Michelle Flenniken's lab called a qPCR analyzer was used to detect viruses that attack bees and other pollinators around the state. Now it has been temporarily moved to Bozeman Health Deaconess Hospital, where the tool can perform up to 60 much-needed COVID-19 tests per day.
"As part of our effort to understand the impact of viruses on honey bee colony losses, we routinely quantify viruses in honey bee samples using qPCR, and the testing process for detecting SARS-CoV-2 in human patient samples isn't all that different," said Flenniken, assistant professor the Department of Plant Sciences and Plant Pathology in MSU's College of Agriculture. "As a virologist, it is nice to meld my lab's expertise with the expertise at Bozeman Health to work together to provide an important service to the community. Together, we are addressing this pandemic."
Read more about MSU's efforts to aid in response to the COVID pandemic here.